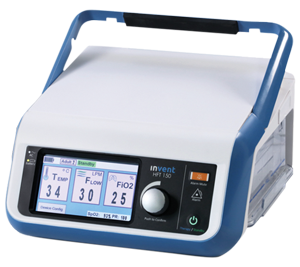 Making it easier for clinicians to make a difference.
The HFT 150™ Heated High-Flow System is a best-in-class high-flow therapy solution in a sleek integrated device. This all-in-one system can deliver warmed and humidified oxygen/air at flow rates from 2-60 LPM to provide respiratory support for spontaneously breathing patients.

No assembly or additional components needed, plus the flexibility to control each setting independently allows for greater confidence in supplemental oxygen delivery titrated for an individuals needs.
Learn More
Take a closer look at what makes the HFT 150 Heated High-Flow System best-in-class!
Learn More
Invent Medical Corporation received FDA Emergency Use Authorization (EUA) for the HFT 150 Hospital System. This EUA will be effective until the declaration that circumstances exist justifying the authorization of the emergency use of HFT 150 and its accessories during the COVID-19 pandemic is terminated under section 564(b)(2) of the Act or the EUA is revoked under section 564(g) of the Act.
What clinicians are saying…
The Invent HFT 150 has one of the simplest and easiest interfaces on the market. Our staff training took less than 15 minutes and we were up and running.
Our staff found the built in battery, which provides up to 60 minutes of run time, helped us get patients out of bed and ambulating sooner post-op.
The Servo Auto Flow compensates for leaks and back pressure which allows our clinicians to feel confident their patient is getting the set flow rate even when using various patient interfaces.
Our patients love how comfortable the HFT 150 feels. We can independently adjust the flow, temperature and Fi02 to match the needs of each patient improving outcomes.